Refer a friend
Refer a nonprofit
Refer a nonprofit to create a new VolunteerMark account, VolunteerMark will give back $100 off year long subscription to that nonprofit.
Refer 5 volunteers
Refer 5 friends to create new volunteer accounts, VolunteerMark will donate $10 to your favorite nonprofit.
How to do a referral
Step 1: As you can see in the screenshot below, select the account settings dashboard icon, and then the "Referrals" tab. within referrals you can see the two options of referring a nonprofit and a specific number of volunteers. Each have a link, and social media icons underneath the referral description.
Step 2: The link is to a VolunteerMark sign up sheet, referred by you! By copying this link and sending it to either a volunteer or nonprofit, you will be credited with sending the referral. You may also tweet, Facebook or Google+ this link as well. Thus encouraging people to sign onto VolunteerMark.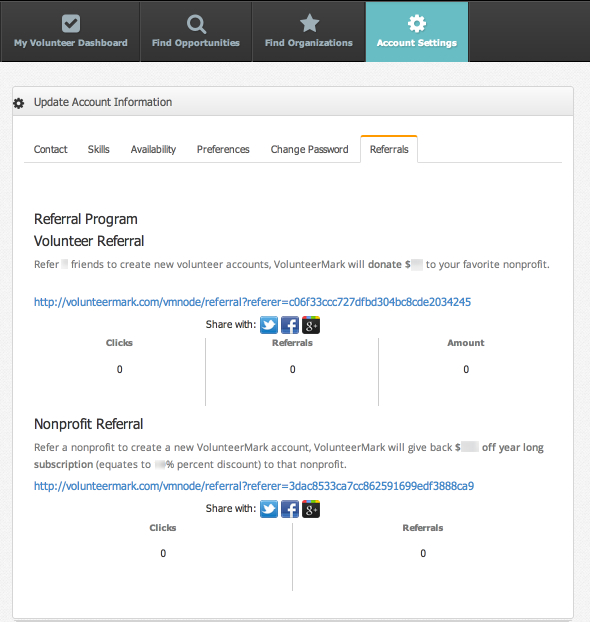 VolunteerMark will keep track of your overall number of referrals, and social media clicks. Showing your impact on the web, promoting both volunteerism and the causes and organizations you care about.
To receive the referral reward you must sign up 5 volunteers or have a nonprofit sign on to VolunteerMark after their free trial. We encourage you to go for it! Our software is easy to love and by referring friends and nonprofits you may donate and save money to the causes and organizations you care about.
Share this article with your team and friends